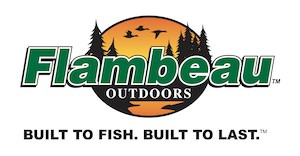 WP6050ZM - Zerust Max Crank Bank (Flambeau Outdoors)
Flambeau Outdoors - WP6050ZM - Zerust Max Crank Bank
Keep your valuable hooks sharp and paint fresh one plug at a time with the Flambeau Zerust Max Crank Bank. The Crank Bank's inventive system of 24 removable cups gives anglers fast access to individually stored and independently protected hard baits. Just pull, pour, and tie. The simple, effective cup format eliminates the risk of playing barrel-of-monkeys out on the water or catching a treble hook when fishing for the right plug. 
The Flambeau Zerust Max Crank Bank isn't just a vault for precious crankbaits, it's a convenient and versatile storage solution for walking baits, poppers, frogs, and other hard sided baits outfitted with multiple hooks ready and willing to tangle. To keep your favourite crankbaits rust-free, the Crank Bank features an enhanced level of Zerust VCI vapour technology now impregnated directly into the entirety of the box. The Zerust technology automatically releases an invisible, odourless, and FDA-safe vapour that diffuses throughout the container and coats all exposed metal surfaces to form a protective layer that inhibits rust and corrosion for a minimum of 5 years.
Dimensions - 13.93" x 6.4" x 5.31"
24 removable cups (2"L x 1"W x 4.5"D)
Optimal storage for a variety of hard baits
Waterproof silicone gasket and 3 compression cam latches
Fully-infused with an enhanced level of Zerust VCI vapor technology
Data sheet
| | |
| --- | --- |
| Composition | Plastic |
| Dimensions | 13.93" x 6.4" x 5.31" |
| Dividers Included | 24 |
| Compartments | 24 |
Reviews
No customer reviews for the moment.
You're reviewing "WP6050ZM - Zerust Max Crank Bank (Flambeau Outdoors)"