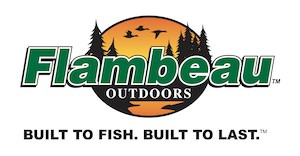 WP5015UD - Ultra Divided *SLIM* Ultimate Waterproof Tuff Tainer (Flambeau Outdoors)
Flambeau Outdoors - WP5015UD - SLIM Zerust Max Tuff Tainer Series 
The Ultra Divided "UD" Slim Waterproof Tuff Tainer offers the 5000/3700 series footprint with a 20% depth reduction built specifically to individually store notoriously tangle prone space wasters: hard-sided stick baits (jerkbaits, spooks, prop baits, spybaits, etc.). The "UD' fits up to 32 individually compartmented baits with an additional option to remove dividers to conveniently accommodate 6"+ baits. Additional features include anti-migration ribbing, waterproof construction, 3 Drawtite™ cam-over latches, and Zerust®-infused dividers for anti-corrosion protection.
Flambeau's exclusive Zerust® anti-corrosion technology is a VCI polymer moulded directly into the dividers that provides years of hassle-free, long-lasting protection by emitting an odourless, harmless vapour in a contained area to actively form a protective layer around exposed, clean metal surfaces to stop rust.
Product Dimensions: 14" L x 8.89" W x 1.7" H
Compartments: 32 Compartments / 20 Dividers
ULTRA DIVIDED LOADOUT: Designed for individual hard bait storage: jerkbaits, spybaits, lipless cranks, prop baits, prepped swim baits, etc.
INDIVIDUAL SAFE KEEPING: Fits up to 36 individually compartmented baits with removable partitions to accommodate 6"+ baits
SLIM BUILD: Features the standard 5000/3700 length/width dimension with a slimmer belt line of 1.7" depth
ZERUST ANTI-CORROSION TECHNOLOGY: Directly infused into each divider, Zerust® VCI vapour technology provides years of effortless rust prevention
Data sheet
| | |
| --- | --- |
| Composition | Plastic |
| Dimensions | 14" x 8.88" x 1.7" |
Reviews
No customer reviews for the moment.
You're reviewing "WP5015UD - Ultra Divided *SLIM* Ultimate Waterproof Tuff Tainer (Flambeau Outdoors)"